No matter the business you're in, there is always competition. Your products or services might be more superior and cost-effective to other options available on the market, but people will not buy from you until they know you & trust you. This means having the best offer will not always help you increase your revenue. So rather than focusing on deals and offers, you should consider something effective in building trust in your marketing strategy.
There are many different digital marketing strategies that can help you grow your business online & increase opportunities for your business. Among various digital marketing strategies, content marketing is one of the most effective ones to build trust for your business over the web.
"Podcasting is a new media content revolution empowering businesses to distribute their ideas among their target audience. A good podcast show can help you build goodwill, earn trust & position you as an authority in the industry."
Your business can use podcasts for a variety of reasons, including sharing information about new products, company information, or general information related to the industry.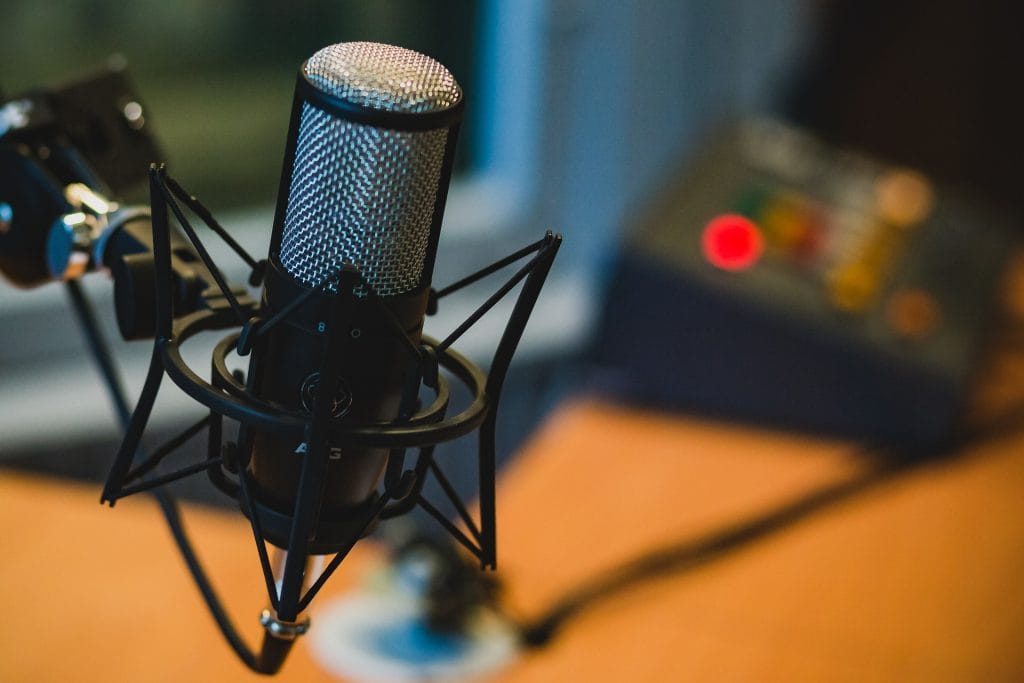 Top 10 reasons why your small business should start a podcast:
Easy and cost-effective
Gives you an authority in your industry
Captures & Engages your audience
Easy to deliver and access
Builds brand awareness & increase brand trust
Helps you connect with your employees
Multi-Channel Distribution
Helps you build new network connections
Brings new financial opportunities
Allows you to produce long-term content
1. Podcasting is easy and cost-effective
Unlike many digital marketing strategies, podcasts are easy to create and can be produced using freely available software such as Sounder. It only requires a pair of microphones and a digital recorder.
You can also find audio from StoryBlocks – a platform to further help enhance and transform the listening of your podcast!
2. Podcasts give you an Authority in your industry
Once you have produced a good base of listeners, you'll be seen as a leader in your industry. People will start listening to your podcasts for advice before making buying decisions. If you get more participants, new visitors will see this as a positive and will join your podcast sessions. Producing regular podcasts with valuable information and creative ideas, helps you establish your company as an authority in its industry. Creative content is key. Don't make it solely about the technicals and product descriptions. You can produce podcasts covering all areas of your industry in an engaging way.
3. Podcasts capture & engage your audience
Hearing the voice of the presenters gives the audience a stronger connection than simply reading text on a web page. With text, you can't transmit your emotions. When you explain things orally, people find it easier to understand your emotions. If you produce and broadcast podcasts on a regular basis, your audience becomes familiar with the voice and style of the podcasts. This familiarity keeps them engaged and coming back for more. Therefore, podcasts help you establish an emotional connection with your target audience.
4. Podcasts are easy to deliver and access
Podcasts are easy to produce. If you don't have any technical knowledge you can create a podcast by using the free tools that are available on the web. Better, you don't need a huge amount of money to create a podcast rather you need a pair of headphone and laptop or desktop. A high-quality microphone makes your podcast sound better.
Listners can even download podcasts onto their smart phones and iPods. Users can now listen to podcasts at any place and at any time, without being connected to the Internet.
5. Podcasts help build brand awareness & build brand trust
Having a solid, trusted brand is vital for your business to thrive. If your target audience isn't familiar with your brand, you will not be able to increase your customer base and revenue. By delivering regular podcasts, you can make your company a household name. Every time you co-relate topic with your product, your audience get familiar with your brand.
You can integrate information about your products and services as they relate to the information in the podcast. For example, if you are a financial planner producing a podcast about retirement planning, work on information about the services you offer in that area. In this way, the podcasts also serve as a type of advertisement for your business.
6. Podcasts help you connect with your employees
Podcasts don't only help you to increase engagement, it gives you a scope to connect with your own employees. Business owners can use podcasts for training their employees and making important announcements. These can be especially best for employers who are operating across the world. Employers can also use the podcast to applaud their employee's achievements.
7. You can distribute Podcasts through multiple channels
This is one of the most critical aspects of podcasting. The popularity of your podcasts will highly depend upon the platform you've distributed or hosted them.
You can spread your reach across the global audience by submitting your podcasts with some of the leading podcast directories like iTunes, Stitcher, SoundCloud, Spotify and many more. You can also use social channels such as Facebook, Instagram, Linkedin to share your podcasts with your audience.
8. Podcasts help you build new network connections
You can also use a podcast to feature guest speakers who share their thoughts and experience with your audience. Inviting guest speakers on your podcast is one of the best ways to give your audience with different opinions and insights on a given topic. It also helps you build good relationships with industry experts who can help you in many ways. Apart from this, when you invite guest speakers from a different industry, you make your audience familiar with their technology and experience. When it comes to deciding on guest speakers, you should select those who have their own audience base.
9. Podcasts bring new financial opportunities
There are many businesses who have been able to grow their income from podcasts. In fact, you can also open up new financial possibilities by creating a podcast strategy that provides your target audience with valuable, insightful information for free. You can also teach your listeners on how to create a podcast that generates revenue.
You can also use your podcast as an opportunity to promote your own products and services and tell listeners why they're beneficial.
10. Podcasts Allow You To Produce Long-Form Content
A podcast allows you to give extensive engaging information about your offering and how it can be valuable for your audience. It gives you scope to include meaningful insights and analyses. A meaningful podcast with extensive knowledge can influence customer's purchase decisions by presenting new prospects with your products and services. A podcast with valuable information can position you as a brand that cares for its audience. This, in turn, helps you earn the trust of your audience and enhance brand credibility.